We woke up to 8 inches(ish) of snow on the ground the Tuesday morning before Thanksgiving. The wind blew hard and there was snow suck in the corners of the windows on the outside. It looked kind of dreamy, like an old painting of Christmas.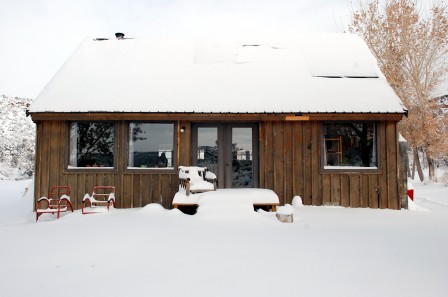 I love getting snow. It messes up our road, make it extra cold, makes any outdoor activity around the house harder, freezes water lines, but it's absolutely welcome. Snow puts moisture in the ground that lasts until spring. It make our grass grow, our trees happy, and keeps the dust down. Snow make everything look cleaner when it first falls. It adds white to our red and brown landscape and that color combination is great.
There's more to this day's story and it really started the evening before. Here it goes.
If any of you know my car, you know it is beat. Old. Tired. Rough. My car is still my car and I drive it almost daily. It has 337,000 miles and has been totaled in a crash with a Polaris RZR. Still, I invest time and money in it to keep it running. Well, Monday night I was headed home from work in the rain. I was traveling south on the highway when someone crossed over a concrete median and pulled in front of me. I was unable to stop in time and rear-ended them. It wasn't a hard collision but it was still a collision. We get a police report and I drive home. On the way home, my oil pressure light starts flickering, one of the belts squeaks occasionally, and I see some steam coming out from under my hood. That's no good. I tried to open the hood but am unable to because the hood has been pushed down so I can't get to the latch. I make it home without overheating and park the car.
The next day, Kelli and I stay home for a snow day. I don't have anything productive on my schedule and we start thinking about our collapsing Thanksgiving plans. We planned to drive my car to Phoenix for Thanksgiving but that idea was now out the window after a front end collision. That was already Plan B as Plan A was to fly down on Wednesday but that got canned because the weather was supposed to deteriorate on Wednesday making flying unsafe. So as we sat drinking coffee in front of the fire, we came up with Plan C; fly to Phoenix NOW. The weather was good after the snow storm (though cold) and the weather forecast looked very favorable for the return trip on Sunday. We quickly packed some clothes, fed the cat, and headed to the airport in our friend's JEEP (Kelli's car needs an engine.)
We leave the Moab airport around noon in the frigid cold with snow on the ground over Canyonlands National Park. My airplane currently does not have a heater so we were bundled up and had a blanket over us as well. Our fuel stop along the way was Williams, AZ. We got gas, stretched, warmed up, and got a skosh of coffee. Another hour of flying and we landed in Wickenburg.
I checked on our house via our website and the temperatures were dropping fast inside. In our rush to leave I didn't fire up the propane heater or drain the hot water heater so I started getting nervous. I texted one of my friendly neighbors and he agreed to turn off our well pump and drain the hot water heater. That put my mind at ease. The entire time we were gone, the house inside temperature didn't fall below 45 degrees.
It rained while we were in Phoenix but cleared up the next day. We spent some good time with family I hadn't seen in a long time. As Friday rolled around, I discussed with Kelli the possibility of leaving a day early to head home as the weather looked favorable.
Saturday morning my parents dropped us off at the Wickeburg airport. We didn't add any fuel before departure since we had only burned an hour of fuel and would burn an hour heading back to Williams. That leaves us with 1.5 hours of fuel when we land. This flight was colder than the flight down. The last storm laid down more snow and we didn't have the sun coming through the windshield so we could see our breath the whole flight. About three miles from the Williams airport I realized we weren't landing there. I flew low over the runway to fine two feet of snow covering everything. We diverted to Flagstaff as it was close and was a lager airport with more services. I figured they would have the runway plowed and clean. When listening to weather as we were about ten miles out, there was a note that the runway was closed for snow and ice removal. I had a quick chat with the tower and quickly decided to divert to another airport. Sedona was next closest and close was important.
I heard a helicopter on the radio in Sedona and asked him how the runway was. He said it was clear; good news. We landed in Sedona with a little less than an hour of fuel left. After getting the cheapest full-service fuel in the country and a splash of coffee, we made the long trek back to Moab. A cold and uneventful flight later, we hobbled out of the plane at my home airport with cold feed and full bladders.
We made it to the house more than an hour before sunset. First course of action was to start a fire. There was some more snow on ground from after we left but it was compacted from warm weather and sunshine. I turned on the well pump and everything flowed just fine.
The house warmed up quickly. The cat got some cuddles and food. Winter is here and I like it.
Stay warm, Joshua